ANNOUNCEMENTS
•

October 21, 2023 - Save the Date and Spread the Word

A Class of '65 gathering is now in the works for October 21. The planners have reserved a room on the main floor at Hackney's on Lake for an evening of fun, memories and deep fried onion rings. We will meet at 6:00 PM for dinner in the room where we lunched at our 50th. $30 per person via check or $32 per person via Paypal will buy your meal and a cash bar will be available.

If you can join us, would you please send an email to the Class address (eths1965@gmail.com) and we will send you a short form to complete and return along with instructions regarding payment. We will need a headcount at least month in advance.

Payment can then be made via check ($30 per person) payable and mailed to "ETHS 1965 Class Reunion, 1000 Indian Rd., Glenview, IL 60025-3318" or $32 per person to our Paypal account "ETHS Class of 1965 Reunion."

Finally, please help spread the word by mentioning this post to any Class of 65er who may have missed it. We are all hoping for a good turnout!

•

Hello classmates: I am excited to announce the publication of my debut book, Saving the Light at Chartres: How the Great Cathedral and its Stained-Glass Treasures Were Rescued during World War II (Globe Pequot/Stackpole Books 2020), available now from booksellers. Learn more at http://victorpollak.net about the rescue of the cathedral's famous stained-glass windows as the war began and about the American Army Colonel who is credited with having saved the cathedral in August 1944 a few hours before his death, a courageous man little known to Americans but honored annually by the citizens of Chartres.

•

We are aware that some of our '65 classmates and their spouses have been contacted by a man seeking information and purporting to be writing a book. He uses a variety of false names and phone numbers. Some who have received the calls have found them disturbing. If you are contacted by this person, we suggest you hang up. If you engage with him, he will likely persist. If you feel threatened, contact your local law enforcement agency.
---
Our classmate, Sidney Caselberry, found this video of our last football game - 1964 Evanston vs. Oak Park. ENJOY!
---
ETHS Class 0f 1965 70th Birthday Party - 6/24/2017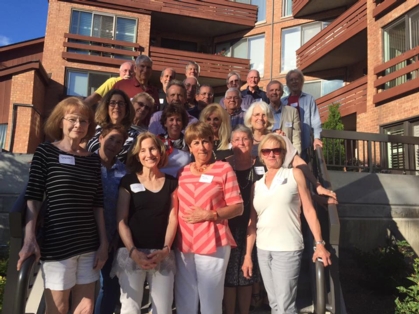 ~ * ~
Please Contact Us if you have announcements you'd like us to make.
---
' 6 5 C L A S S G I F T
As you know, thanks to our generous classmates, we have funds to create a '65 class gift, as well as hold some money in reserve for future class events. We agreed the best way to support the school is with an unrestricted gift for projects that are currently the ETHS Educational Foundation's top priorities, including the Gateway project and the Wind Turbine.
A few classmates jumped on the idea to have our gift recognized via a plaque at the location of the long gone, but much loved "Birdcage." But unfortunately, that's not possible. So we've decided to have our plaque on a bench at the Student Commons, close to the location of the old Birdcage. The plaque could read "The Class of '65 remembers the Birdcage--where memories were made."
Also, we will be dedicating a brick on the path nearby in memory of our friend Mike Heropoulos, thanks to an extremely generous donation from his family to our class. Those interested in making similar memorials for classmates can read about them at ETHS Education Foundation.
Here's a video that will show you some of the past projects the Educational Fund has made possible. Some of our donation will go towards completing the Wind Turbine project that's mentioned in the video.
---
---
Are you a member of the ETHS Class of 1965? You've arrived at the *official* Class of 1965 web site! Please join us to find out everything about our reunion and all of your old ETHS buddies!
---
Click Donate Now to make any size donation to the class fund to help defray reunion costs & contribute to our class fund.
---
Click Classmate Profiles to find out where people ended up.
---
Click Missing Classmates to see the names of people we haven't been able to track down yet -- and help us find them, if you can.
---
Click In Memory to learn about classmates we have lost, to learn some details about their lives, and to leave your memories of them.
---
Click Thanks to Our Donors to see who has donated to the reunion fund.
---
Click What's New to see what classmates have been up to lately.
---
Click First Time Visitors for details about using this website.
---
Join the ETHS Alumni Facebook Page.
---
Read about ETHS History.
---